Born by the eternal sleep of two titans, Tera (The Exiled Realm of Arborea) is a fantastic world beyond any imagination: by Arun's and Shara's dreams were born first gods, by gods first struggles rose. Created by dreams, earth-born races too had to face each other in the name of gods.

But Argon's invasion, alien creatures only interested in destruction and changing Tera into a metal, cold world, persuaded every race to join together: only the cooperation among Castanics, Humans, High Elves, Amans, Baraka, Elin and Popori can now save the world of Tera from destruction.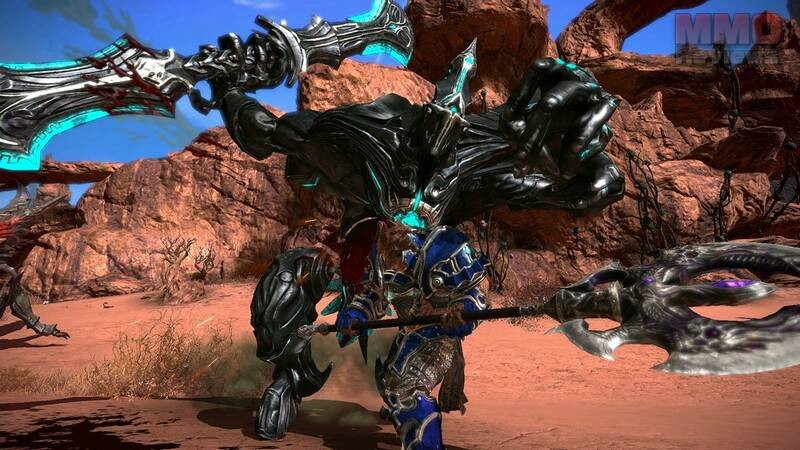 Since first in-game screens it's easy to realize that Tera is a magnificent, coloured, magic and nature soaked world: and in this setting you have first of all to choose your race, among the (seven) available. Each of them shows peculiar features: apart from humans and high elves (that follow classic cliché), Castanics are similar to demons, Amans derive imposing aspect from their long story of slavery, Popori look like Pandas, Elin like fairies, Baraka come from giants.

Aside the real fancy, what strikes our attention is the accuracy of details and characters motions in the choice menu: characters seems to have been in the screen from beginning waiting for us, Castanics with their arrogant appearance, Popori with their sympathy, Elves with their charming beauty, Baraka with their wisdom, Aman with their majesty. Choosing in our trial an elf female and proceeding with the class choice, in front of the warrior female elf we were really shocked by her teasing beauty, by her smooth motion insomuch as we think you can stay hours undecided between watching the screen or going on.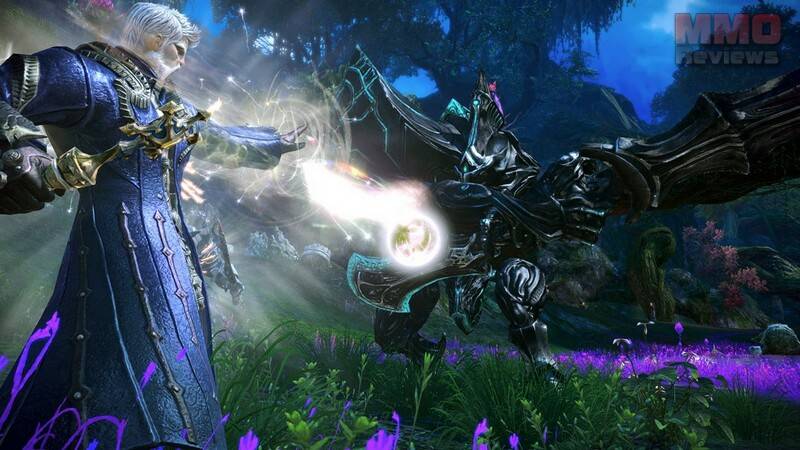 Choosing to go on, the available classes are eight, without any restrictions related to races: four melee classes (Warrior, Lancer, slayer and Berserker) and four ranged classes (Archer, Sorcerer, Priest and Mystic), with the specification that for each is fully shown the main role (tank, melee dps, ranged dps, healer), the dps type (burst or sustained), the crowd control rank, the armor type and all the useful information to choose wisely own part in the future battles.
Done that another surprise is coming, because the possibility to customize the outward appearance is pretty stunning: you can pick from a lot of default faces or create a random one, or rather you can bring into existence your alter ego in an endlessly creative way. In fact it's possible to choose your haircolour (including purple, orange and green!) and hairstyle, the shape of face and the skin-colour; the face in detail (structure, eyes, nose, mouth and ears, and each of this choices have further options!), the outfit and even the voice! Only after you tried every options you can really create a true unique character that, with the final addition of a name, can terrify every foe.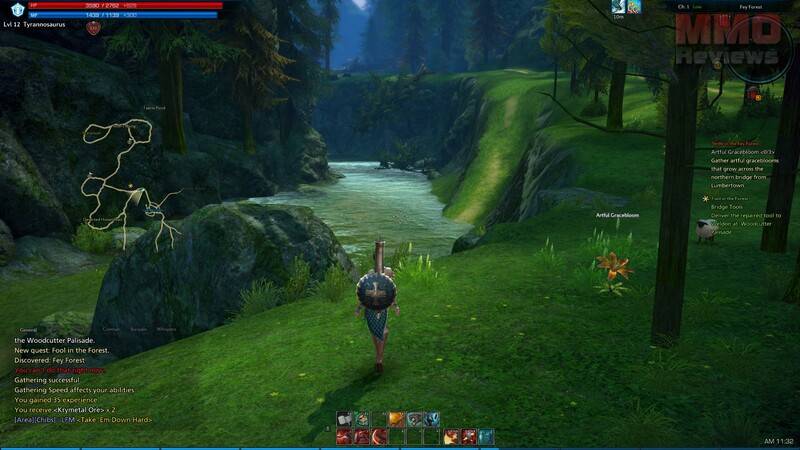 Once clicked finish button and back in the majestic-structure screen (when all your characters will lie waiting for you), choosing just created own character you can play a sort of tutorial (the Prologue) or begin at once "in medias res" in the Island of Dawn. Picking this second option, after a suggestive cut-scene (the graphic is really stunning) mounting a white griffon, the real adventure begins. It's now essential to do some opening premises: the game graphic is well defined, clean and shining, characters motions are smooth and spectacular, the gameplay shows itself fluid and amusing even with low pc configurations (as the one we used to try the game). Despite the first NPC you meet in front of the griffon landing-zone already have a quest to entrust (to introduce us to the Isle), it's impossible not to show off some capers, runnings, frontal attacks, dodge, only to admire how our alter ego twirls! The characters itself (more than surrounding setting, already excellent) is ultra-defined in details, attractive since level 1.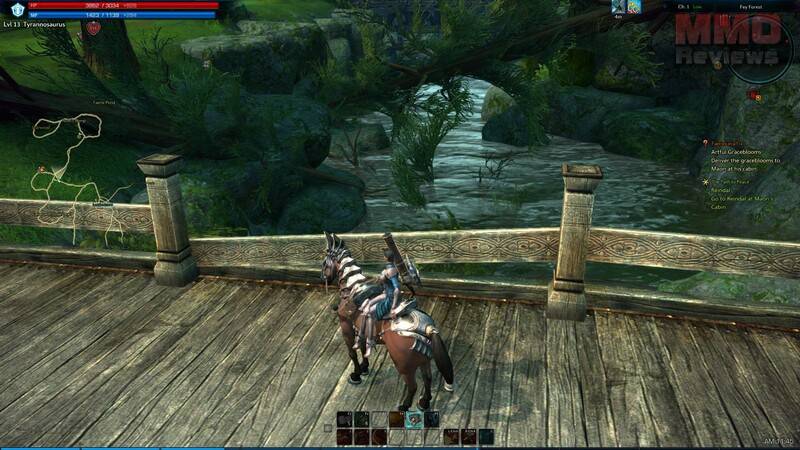 Simply great appears the controls system too, enabling not only mouse and keyboard, but also joystick or gamepad, to improve the action experience; in addition the response time and the movement accuracy of the character are excellent. The interface is made up of our UI (in the top left of the screen) with health and mana indicators, of a mini-map in the top right (where appears buffs, hints and tips too), of another bigger see-through map a bit below, and finally of the abilities panel in the bottom center of the screen (with buttons that can be freely binded). Clicking ALT or one of the mouse side button eight icons appear under the character: these icons concern the essential game actions (as the character profile, the skills, the quest log, social and game options etc..). In any case main buttons are (using mouse plus keyboard) mouse ones (usually left mouse button realizes an attack combo, right mouse button is useful to parry, to dodge or to realize secondary attacks), the action button (binded F, basic to loot, to talk, to climb), the spacebar to jump and the WASD to move. Despite the apparent complexity, the controls system with a couple of hours of training is really easy and intuitive, efficient and precise.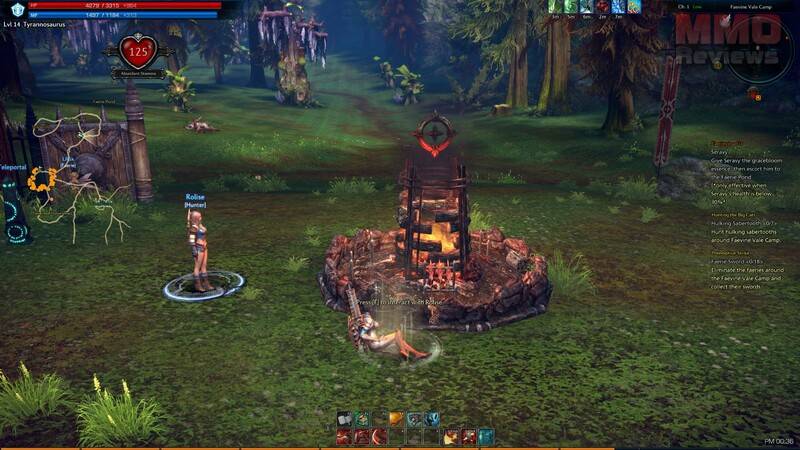 It's time than to talk with NPCs to take some opening quests: these can be divided (as in many MMORPG) in a main quest and in several side quests, in gathering, killing, exploring quests. After you took some of them, it's time to fight: and here the surprise is! If you thought that the good part of the game was its graphic, its smoothness, its high level of customization, the beauty of the persistent world, the combat system arrives to wrong you! Fast, precise, acrobatic, strictly focused on character position (not on targeting), the combat system is the real "piece de resistance" of Tera. At beginning, after years of target-based MMORPG, you can feel it strange, but few minutes are enough to realize how this new combat system can be exciting and realistic, its potential in dungeons or raids. To move with skill and timing and to choose the right ability in the right moment are the secrets of a successful fight: monsters certainly don't await to be hit, so if you don't move they can hit and throw you to the ground! On the other hand ranged class have to allow for their magic or bow range aiming well the target (manually) not to risk to be beaten.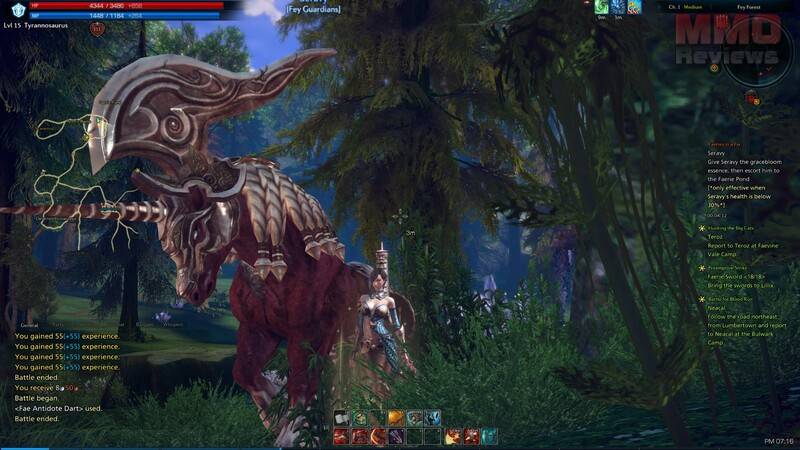 Note well, you can deduce all this only taking a fast look at the game and its dynamics: actually their potential seems quite countless, about PvP or PvE combat, areas to explore, social functions among players, gathering or crafting system, political system. In sum Tera is a real novelty on several fronts, flavored by the freshness of a smooth and amazing graphic, by inspired and adventurous music, by excellent graphical and sound effects, by well implemented and appropriate cut-scenes. So, get inside the role of the hero of the realm, for the first or the umpteenth time: in any case Tera promises you not only an excellent entertainment, but also a kind of fun ever seen before, true and direct in its motion, fantastic in its setting, unique in its genre.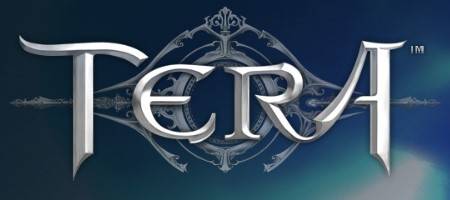 By: MMOGInfo.Com
Score:
( 5 )